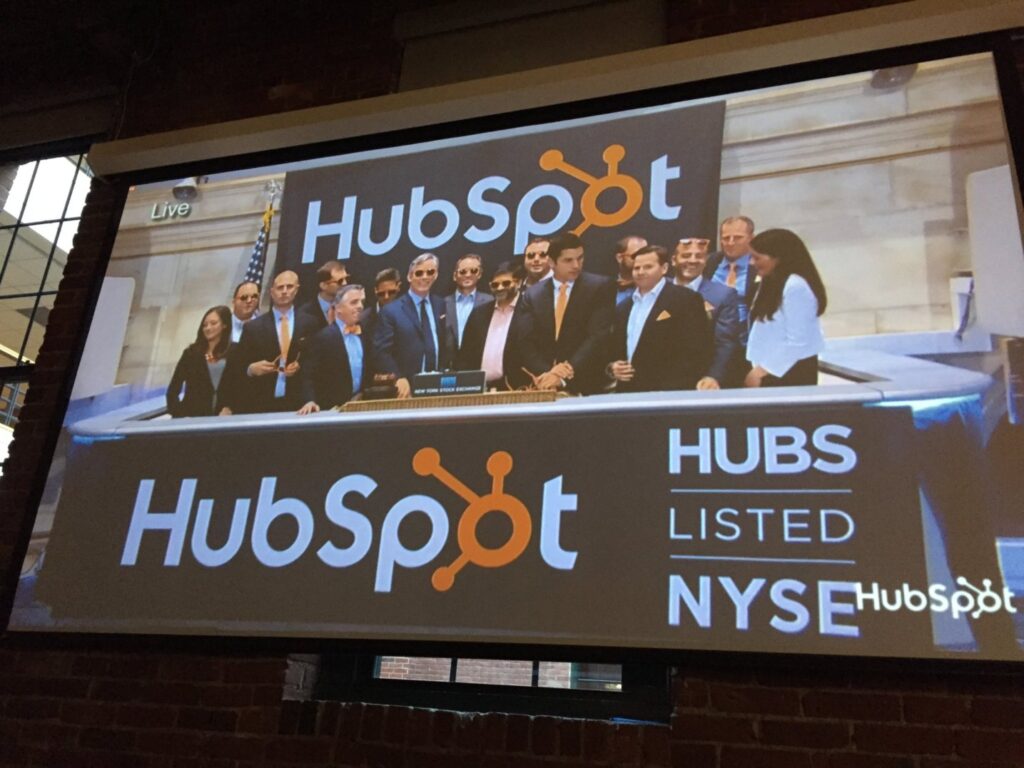 HubSpot, where I started my career ('15…go Sprockets), recently announced an outstanding fiscal quarter and year as well as the notable achievements of reaching 100,000 customers and $1B in Annual Recurring Revenue. ARR grew 36% year-over-year, accelerating four full points over last quarter's YoY subscription growth rate even with larger numbers. The market rewarded it with a 16% gain the next day, reaching a $500+ share price and $23B valuation, up from $10B just seven months earlier. 
What a wild yet relatively smooth ride it's been since the company's founding in 2006 as a marketing platform centered around a Content Management System (web hosting) and an Email Marketing tool. When HubSpot IPOed in 2014, its sales offerings were a relatively small experiment, and everyone knew that the CRM product wasn't fully baked, lacking key features like custom objects. 
Fast forward seven years later, in addition to the flagship marketing product, HubSpot offers a much more comprehensive freemium CRM as well as an innovative customer support ticketing system that started as an internal tool (named Zorse…which is exactly what you think it is).  The marketing platform has also been invested in significantly with new tools like conversational marketing and in building out the Marketing Enterprise offering, most notably the updated CMS (thanks, Angela!). 
In 2020, a major shift happened in the company's external positioning. That thing we all kind of knew was inevitable back in the day but didn't really talk about happened — HubSpot became a CRM company. You can see it in the difference between the Q2 2020 results lead-in and the Q3 2020 lead-ins:
CAMBRIDGE, MA (August 5, 2020) — HubSpot, Inc. (NYSE: HUBS), a leading growth platform, today announced financial results for the second quarter ended June 30, 2020.
CAMBRIDGE, MA (November 5, 2020) — HubSpot, Inc. (NYSE: HUBS), a leading customer relationship management (CRM) platform, today announced financial results for the third quarter ended September 30, 2020.
While the product suite exponentially amplifies its potential when used together, HubSpot also sells components a la carte and has strong integrations that make that possible, having invested heavily in its App Marketplace and the acquisition of PieSync (adding to its capital S collection), a clicks-not-code integration product similar to Zapier. Selling things a la carte, most notably the marketing product which is best-in-class should be a great way to land and expand into the entrenched SMB CRM market and to help make migrations easier. Additionally, for new prospects without a CRM or marketing solution, HubSpot has made it far easier to get started than its competitors have by focusing on a self-service/freemium model with limitations that customers eventually hit to upsell them to paid verions later. 
Now, instead of going upmarket and mostly competing with Adobe's Marketo and Oracle's Eloqua in the more niche marketing space, HubSpot still competes there — but has also opened up the much larger $45B CRM market, primarily competing with Salesforce and Mailchimp — and to a lesser extent with WordPress, Constant Contact, Zendesk, and Microsoft Dynamics (which has huge potential given their means, presence in the SMB, and ownership of LinkedIn, the world's best B2B prospecting database). 
The allure of the shift in focus towards the CRM market is obvious given its size; it's similar logic as to why Apple is attracted to the electric vehicle market, having dominated the phone market and finding itself in a unique position to enter EVs and connect them to their flagship product in a powerful way. 
As a Salesforce CRM admin and HubSpot user, I can't yet in good faith call HubSpot a complete CRM product, although I recognize there are many small businesses for which its products will work just fine. What I'm looking forward to most as a CRM administrator, and what I'm sure they will deliver on, are things like a workflow engine supporting nested IF / AND / OR logic that can reference and update data cross-object, the ability to write custom code and execute batch jobs, a better reporting engine with cross-object multi-level pivots, rollup summaries, and validation rules based on roles/users/types.
HubSpot hasn't catered much to the 'administrator' as a persona in the past, because instead, it tries to make everyone the administrator of their piece of the product, but in the CRM space supporting and enforcing business logic requires an admin and business process expert and the MVP to enabling them is to support pseudo-code to run when records are created or updated in addition to cadenced jobs. An area where I would love to see HubSpot innovate is adding time-series data on all fields to its reporting, which would be a differentiator and provide deep insight into why things are the way they are and how data about your prospects and business are trending. 
Salesforce should feel comfortable in its position, especially since it cares more about the Enterprise and eating Oracle's lunch than it does about the SMB and HubSpot, a company 10% its size nipping at its heels with one foot in a much more niche market. That said, if you're Benioff, you're probably wishing that you bought HubSpot when you were thinking about it back in 2016 .