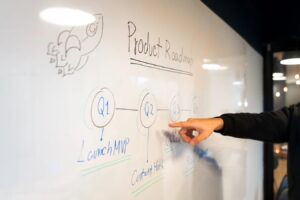 Since business operations stakeholders typically represent most departments within an organization, as a company grows, it's natural to question and re-question how to structure your team and efforts. Sales, marketing, customer success, product, and finance are often groups with very different and sometimes conflicting agendas and timelines. For example, early on, sales might want to sell a deal that involves customizing a product and structuring a multi-year deal to suit a specific customer's needs — while finance and accounting teams are frantically googling revenue recognition rules and are figuring out when the right time is to make the product team stop innovating and start implementing a sophisticated sales tax solution.
Ops teams are often stuck in the middle, trying to bring order to chaos and move things forward. An axiom that I try to live by at this stage is to be bold where appropriate and to try to avoid uninspired compromises, especially in architectural decisions. In order to do that, communication and transparent prioritization and backlog grooming are critical. A good business operations team can rise above system administration, and articulate a clear plan to enable go-to-market teams to achieve their goals, or sometimes just help to set some together. A monthly stakeholder meeting is a good format and cadence to drive an agenda.
The earlier your company is in its go-to-market efforts, the more oriented your business operations team will (and should) be towards sales. Early on, there typically isn't a separate sales ops function, and companies often make their first dedicated business ops hire. The CRM and marketing automation design decisions that get made need to be thoughtful and should try to toe the line between iterating quickly and building for scale. I would argue that centralization at this stage is critical since things are moving quickly and the customer journey needs to be stitched together (sometimes with duct-tape) by people who understand its daily evolution. 
Given that contradictory agendas between departments tend to grow along with the business, there comes a time when sales, marketing, and finance all want their own operational hires solely dedicated to their function. There isn't a one-size-fits-all answer as to whether that's the right decision, but if a department is advocating for its own ops hire, it's crucial that the department leader articulate why that decision is being made, and to pre-negotiate what that new hire's relationship will be with both groups ahead of the interview process. It might seem obvious, but the interview process should include the centralized ops leader who is in a position to qualify the candidate technically and is someone they will need to have a strong relationship with. Expectation setting is so important, for your new hire and for the department from whom you're asking to hand over the virtual keys.
The biggest mistake that a company can make is to decentralize operations as a way of consoling a department leader who wants to 'go rogue' or because lines of communication are fractured between groups. What might look like a way to appease everyone in the short-term might actually be setting yourself up for failure. With good expectation setting, dotted-line reporting can also work very well, where a departmental ops hire still attends centralized operations team meetings and holds a weekly 1:1 with a point person on the dedicated ops team.